●High position (cylinder bead) specifi cation suitable for high density mounting. Avoids visibility diffi culties due to obstruction by other components.
●Springs have inverted triangular shape to off er secure hooking onto with a wide variety of probe shapes.
●Low position specifi cation available for loosely spaced mount boards to allow for various uses.
●Allows circuit grouping using 10 diff erent colors. (Yellow and mocha colors newly added.)
●No-beads and compact bead specifi cations are also available allowing suitability for various usage conditions.

●Manufacturing method changed from blow-molding (blown items) to stamp molding (pressed items).

・Softening point improved greatly to 670°C for pressed items.
・Dimensional accuracy also improved (due to stamp molds).
・Products are RoHS compliant.

・Heads have inverted triangular shape to off er secure hooking onto with signal check oscilloprobes.
・Can be mounted with uniform height due to leg projections.
・Easy to conduct testing since beads are tall even in spots where components are packed tightly.
・Enlarge PC board holes (φ1.3 or more) for lower mounting.
・PC board mounting hole diameter φ1.0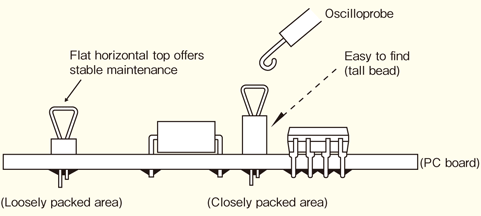 Product Detail(Check terminal(HYT-4007、HYT-4000O、HYT-2054O))